(reproduced by kind permission of Bob Ogley from his book "In the Wake of the Hurricane")
The picture above was taken of Emmetts Gardens just after the Great Storm of 1987 and shows the Giant Redwoods that still stand today in this 4 acre arboretum. Since then many trees have been replaced. There is an interesting History page about Emmetts on the National Trust web site.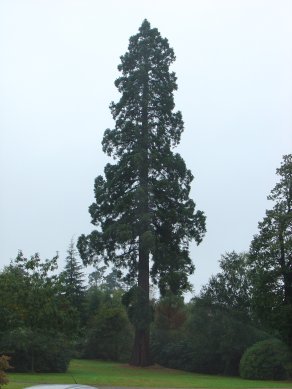 The above picture taken on a misty, murky day last year does absolutely no justice to one of the Redwood trees near the house. We are hoping to return for another visit sometime next year to take a better photograph and to see the young Dawn Redwoods which the Head Gardener told us about.